The stolen secrets of Namisindwa's caves
By Lubowa Kiggundu
According to local folklore, this is the place where many firebrand Bamasaba warriors opposed to Semei Kakungulu's forays into south.
Part of the interior of the cave. It is said that artefacts of the past were once found here
TOURISM
Namisindwa cave in Matuwa in Manafwa district is a subterranean treasure worth visiting if you are in the east of the country.

Found on the huge Namisindwa mountain, the cave is locally referred to as libina lye lukulu lweNamisindwa.

Namisindwa mountain straddles almost half the land mass of Manafwa district. The cave offers a rare glimpse into prehistoric life in Bugisu.

According to local folklore, this is the place where many firebrand Bamasaba warriors opposed to Semei Kakungulu's forays into south.

Bugisu sought sanctuary in the late 1800s and early 1900s.

Kakungulu was the British colonial agent who helped to bring most of eastern Uganda under the protectorate government.

Local narratives have it that the warriors retreated to the caves when battles between them and Semei Kakungulu's conquest army escalated.

Fred Wekhola, an elder in Matuwa village, says the warriors found the cave to be a convenient hiding place, especially at night.

"This cave is an important site for archeology. It has a rich history. It was used by our ancestors on several occasions as shelter and as a hiding place as they struggled to fight off conquest.

Kakungulu and his men never got to know where those resisting them in this part of Bugisu were hiding.

There are not many relics left of the weapons the warriors used, but once you get in, you can see how difficult it was to find them once they hid here.

Many artefacts, like metallic circlet beads, machetes, spears, gongs have been found in the cave but we have not been able to keep them in one place," Wekhola says.

Inside the cave

The cave is huge inside; it almost feels like being in a maze. For the claustrophobic person, I suggest you think twice before you visit.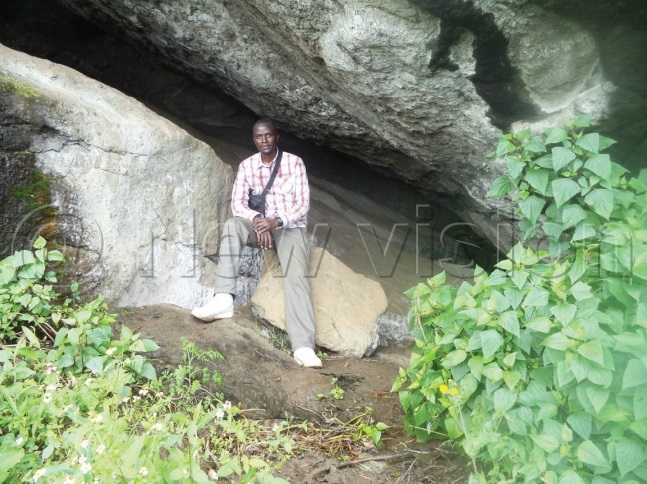 The experience of moving inside the cave is slightly unnerving; partly due to the pitch darkness as you tread your way around, especially towards the interior.

Near the cave's entrance, there is a water stream that flows gracefully into a beautiful formation of rocks.

Lost relics

Wekhola tells me the earliest evidence of human art works, namely stone tools, beads decorated with abstract designs and gourds, were recovered from the cave by one resident identified as Kigai Namanda.

He reportedly relocated to Magale, a nearby trading centre, after receiving threats from some residents who felt he had made money selling off the ancient relics.

"Namanda had to go deep inside the cave and that required like three or four big torches. He succeeded in reaching one chamber, but he could not proceed any further.

From his account there are more undiscovered artefacts in the cave. It is just the darkness inside that impedes. To explore the whole cave, big torches are needed.

"The cave was also used as a temple by our ancestors whenever they were bestowing the ancestral power of divination (locally referred to as bufumu) upon specially chosen people.

The divination was done through some of the gourds that Namanda found," Wekhola says.

Wekhola says drums, Imbalu circumcision ceremonial head gear (Kamarubisi), grinding stones, spears and old stone knives have been discovered in the cave.

"Some of the artefacts were however taken by some of the white visitors without our consent," Wekhola says.

Modern use of the cave
The cave has also served as a convergence place for newly circumcised young men of Bumbo sub-county when they are preparing for the traditional ritual known as khukhuyalula, which is normally performed every February in the odd years.

The ritual involves burning the dry banana leaves newly circumcised boys sleep on.

"Inside the cave, new initiates sing songs repeatedly proclaiming how they have chased the fifth of Businde (Boyhood) away. They sing whilst moving through the cave," Wekhola says.

Hiking challenge

These caves and the surrounding terrain present a good potential tourist attraction for sightseers and climbing challenge for hikers.

Already, students coming from Bungoma and other parts of western Kenya have been making the cave a picnic and rendezvous site.

The hike to the cave is not difficult, save for the last part which is very steep. My young guide Sibi Kutosi almost left me behind. I had to stop to catch my breath.

You will however be rewarded for your efforts with spectacular views of the highlands below and on the Kenyan side. Both young and old can visit for picnics and sightseeing. It is worthwhile.

How to get there

To get to this historic cave, take a commuter taxi headed to Bumbo. These are readily available at Mbale Taxi Park.

At Matuwa, ask for a guide to take you to the cave of Namisindwa. From Matuwa to the cave is roughly 70 metres.