Jumba's Consecration as Ssabakabona 2017
The Current Ssabakabona (High Priest) of Tondism Faith Jumba Lubowa Aligaweesa was consecrated into Ssabakabona at the coronation function held at Walusi-Nsi Sacred Hills.
Jumba Succeeded the Late Omusiige Sebyayi Kyabangi who had succumbed to Dhiabets . Omusiige was the Great Pioneer who orchestrated the Faith of Tondism in the Early 1960s.
Jumba Held the function at Walusi – Nsi hills where an overwhelming number of traditional healers and herbalists, Local people and foreign nationals attended.
At the function where Jumba arrived in a Chopper, landed at Walusi Sacred Hills with a group of People enthusiastic to see him. The Chopper landed 100mtrs from the function at a 90 Hight of Latitude at the altitude of 23230.
Later the Ssabayima (Head of Elderly Council) Wamala Mugalula Announced to the gathering how Jumba Lubowa Aligaweesa was the current High Priest (Ssabakabona) of the faith. His Announcement raised a-lot of eager from all corners of people to see who Jumba Was. Ssabayima Raised the hand of Jumba in a very enthusiastic manner, highly clapping and happiness all-over.
The function continued with Prayers, Calling for blessings, calling spirits, announcing and anointment of Spirits at Walusi-Hills. Here, the then Chief Medium Nabamba Budhagali (late) was in attendance at his first attendance to the function of same.
Jumba was later taken at the Verge of the Hills (Busabiro) a place where requests, Acquisitions and Inquiries are taken from.
VIDEO: Jumba at Busabiro.
After The Function of the 23rd, May 2017, the next day, Jumba made a wonderful function at Mukono Kirowooza at his home where he ordained over 50 Priests and sub priests in the faith.
Who is Jumba Lubowa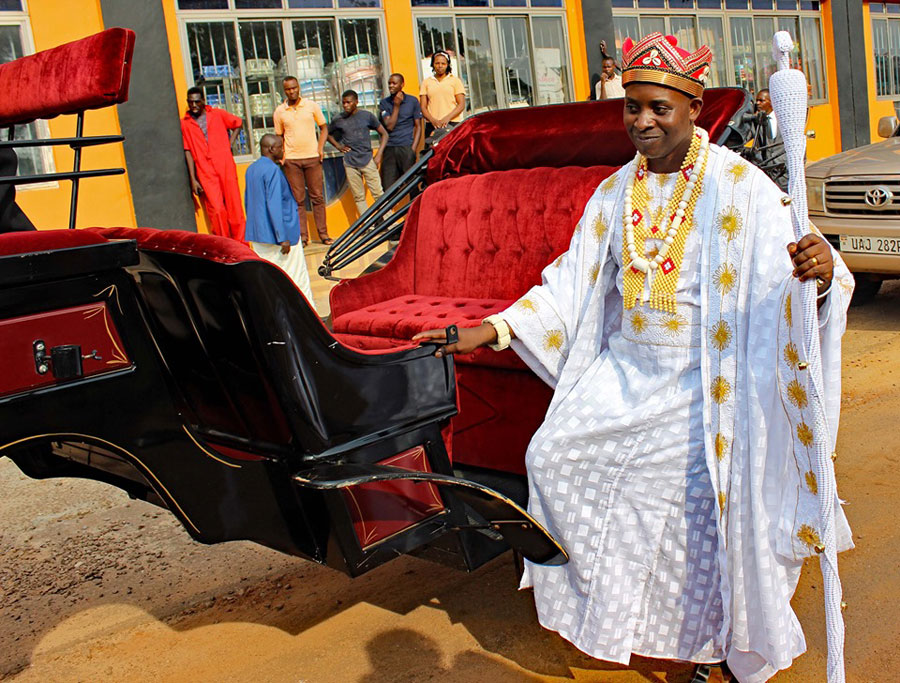 Juba Lubowa Aligaweesa is the High Priest of Tondism Faith, the Husband of Senga Kulanama The Renown Traditional Healer in Uganda who heads uli Bumu and the president General of Traditional Healers in Uganda.
Jumba Lubowa Aligaweesa was born in 1978 in Rakai district. His father Senyonga Mugerwa Paulo was a Catholic but he died before Jumba could recognize him. His mother Theresa Namakula Nakamanya was a woman of little means and she had two children to look after upon the death of her husband. Jumba was taken away to a relative to raise him. His new father would be a Muslim, a Hajj Sulait Mugerwa. Jumba would be raised a Muslim.
Read also: Jumba Lubowa is a Ugandan Traditional Healer…….