Scores of traditional healers and spiritualists from Africa pitched camp at Bujagali village, Budondo sub-county, Jinja district to celebrate the life of their leader, Budhagali Nabamba.
Born Donozio Namunkanga Mukembo Zirabamuzale, the spiritualist, breathed his last on Saturday night after suffering a brain haemorrhage. He was chief Oracle of the spirits who live at Bujagali Falls, and the 39th spiritualist to submit to the spirits of the falls, which allegedly protected the community through him.
Godfrey Kabagambe, a spiritualist from Luuka district who doubles as the head of "Baise Muvu" clan to which the deceased belonged, says that Budhagali was the oldest surviving traditionalist who thrived from a small shrine to fame.
Kabagambe also says that Budhagali will be laid to rest on Sunday night after performing traditional rituals which comprise of sacrificing domestic animals as a requirement of awarding him a decent burial befitting his hierarchy in spiritualism.
Clad in bark clothes, traditional healers have since pitched camp at the fallen Budhagali's home, performing rituals in his honor.
Budhagali Nabamba was born to Thomas Nume in Kilimwa village, Bukooma sub county, Luuka district in 1914. He studied in a missionary school up to primary four but dropped out to serve as an attendant in his father's shrine
On September 1, Mzee Nabamba Budhagali, a spiritual leader of Busoga clans, curer of different ailments, and the 39th oracle of the River Nile rapids dubbed the Bujagalli falls, was admitted to Nile International Hospital in very critical condition.
Budhagali, with his famous shoulder-length dreadlocks and tobacco yellow scattered beards, lay in a coma at the hospital, having been diagnosed with intracerebral hemorrhage (ICH) stroke, which resulted from unmonitored high blood pressure and diabetes.
Blood had poured in his brain, as according to doctors and his entire side was not movable. On top of that, he needed a very huge bill to sustain him in a hospital.
Budhagali was pronounced dead on October 26, responding to God's final call, and indeed tearing him away from the years of his service on earth, albeit as an oracle to spirits in charge of a section of falls on an earthly river!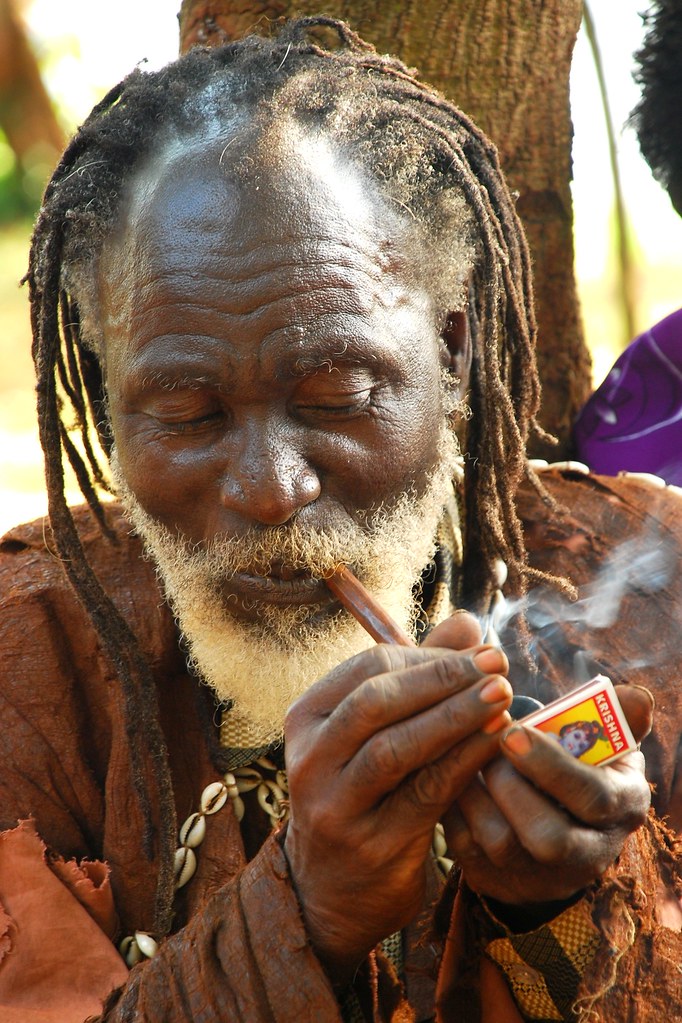 Brought by the Spirits
Nabamba claimed was not in control of himself when in the presence of the spirits, and just like his predecessors, he was chosen by the spirts that blow speed in the falls. He walked from wherever he was unconsciously and found himself at Bujagali from where he sailed on a mat across the river.
He was crowned Mandwa Budhagali, meaning the one on whose head the spirits rest to drive violence in the waters, passing judgment on mankind and riding out disease. The spirits came with so many powers, some only heard of from stories of those that have also heard from others, while many of them were realistic and the very basis he was a very sought after traditionalist.
Budhagali's powers thrust him in the limelight, he was known from the end of the Nile to the farthest point in Europe. A sight of him steered a strange fear amongst the toddlers, for he was viewed as the peak of spirits' cocktail, and not that his physical look made it any less.
Nabamba enjoyed the limelight as it came and he was by default, the only Ugandan traditional spiritual leader that gathered people from every nook and cranny in his shrine-filled compound in Budondo Village in Jinja District- the source of his other title- Dada (grandfather).
Frustrated by man
Soon Budhagali would be overtaken by earthly pleasure and slowly slide back into human skin when in the late 2000s, government proposed to construct the Bujagali dam with a destructive tunnel passing exactly where the said spirits are located.
His livelihood (literally) was not only threatened by the construction of the dam, but also by the fact that 'sharper' oracles claiming administration of the Nile rapids passed back door and received Shs100m, apparently to relocate the spirits and enable graders successfully operate.
These were led by local chief spirit medium Benedicto Nfuudu, who conducted theatrical traditional rites to release the Bujagali spirits.
A mad Nabamba ran to government and disputed the relocation, saying those who performed the rites were after financial compensation. He asked that Nfuudu and his accomplices be arrested and charged with impersonation.
He went ahead and threatened that calamity would befall the nation if the dam was constructed before he personally relocated the spirits.
That was all, Budaghali had been out scooped, and it was now time for the whole world to watch him put up a show.
Alas, Nabamba resorted to earthlier means of dealing with the frustration, dragging Nfuudu and a one Waguma Ntembe to court over the relocation of the spirits.